Americans are facing a friend shortage.
This year, the surgeon general warned of an epidemic: half of us are experiencing "measurable levels" of loneliness at any moment, whether it's related to losing a loved one, moving to a new city, financial or health issues, or the isolation that comes with remote work.
As with virtually every modern problem, a California startup says it has a solution.
Groundfloor, which began in the Bay Area and will soon open a location in Los Angeles, is a social club with a focus on friendship. What sets it apart from other members-only clubs is that it's marketed to those seeking community rather than exclusivity.
The Groundfloor co-founder Jermaine Ijieh, a Londoner who now lives in the Bay Area, says the club provides space for work (meeting rooms and phone booths), wellness (classes, gym space and meditation circles) and socializing. There are karaoke nights, member-led special interest groups and craft workshops. It's not aiming to compete with WeWork or elite social clubs, Ijieh says. Instead, he likens it to "an after-school club for kids" – but designed primarily for adults over 30.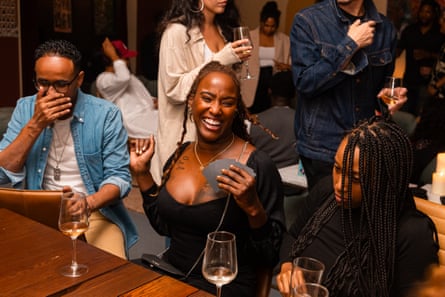 "There's always been an issue once you start to hit this age range," he says. "We start to lose institutions where we used to build communities, such as places of worship, colleges, offices, schools … Once you leave your 20s, it sort of feels like a social purgatory."
The pitch is working: Groundfloor's forthcoming location in Los Angeles's Echo Park neighborhood already has 2,000 would-be members on its waitlist. Perhaps that speaks to the isolation of a city of endless traffic, few pedestrians and its own scientific scale for loneliness. But the club also has three locations in the San Francisco Bay Area that almost 1,000 people have joined. Those numbers underline the reality of the loneliness crisis, especially when you factor in the club's price tag: $200 a month.
Which raises a question of its own: can a members-only club ever be truly inclusive?
Perhaps it depends on context. Groundfloor comes off as a far more welcoming spot than private clubs like Soho House, "a high-wattage magnet for A-listers and dealmakers", per the Hollywood Reporter, that charges up to $2,700 a year for membership to its West Hollywood location, plus more than $1,000 up front. NeueHouse, which celebrates a membership of "innovators in their fields", costs $3,600 a year at minimum. (Both clubs offer discounts for twentysomethings.)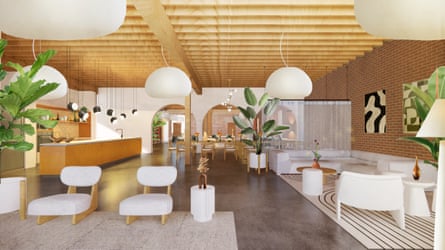 By contrast, Groundfloor makes a point of not asking applicants what they do for a living. The application process comes down to a call with a team tasked with "trying to find individuals who recognize that building community takes some effort", Ijieh says. The litmus test is: who is seeking "long-lasting relationships as opposed to just going to a nice place to work or grab a drink"? Another co-founder, Jamie Snedden, told the Los Angeles Times that 80% of applicants were accepted.
The club also prioritizes diversity, Ijieh says: 60% of its Oakland members and 40% of its San Francisco members are people of color. "For me, as a Black co-founder, it was important that I can elevate others that have had struggles like myself – I think some of these spaces historically have been very white, very elitist."
As for the price tag, he says that a quarter of members are benefiting from discounts of up to 75% off.
The fact that so many are ready to part with their cash points to the potency of our loneliness crisis. According to the US health department, lonelier people are at twice the risk of developing depression compared with their non-lonely peers, as well as a much higher risk of heart disease, stroke, dementia and premature death.
At a time when more than a quarter of American homes consist of a single person – a record high that's triple what it was in 1940 – creating real community is a noble mission. And for those who have the means, human connection may be the best thing to spend it on.
But if you're short on friendship funding, there are, fortunately, other ways to find companionship. This month, for instance, you could attend a queer co-working hang, do some hardcore board gaming or go to a multi-genre dance party – all in or near Echo Park, and all free or by donation. If the loneliness epidemic proves anything, it's that if you're feeling lonely, you're not alone.