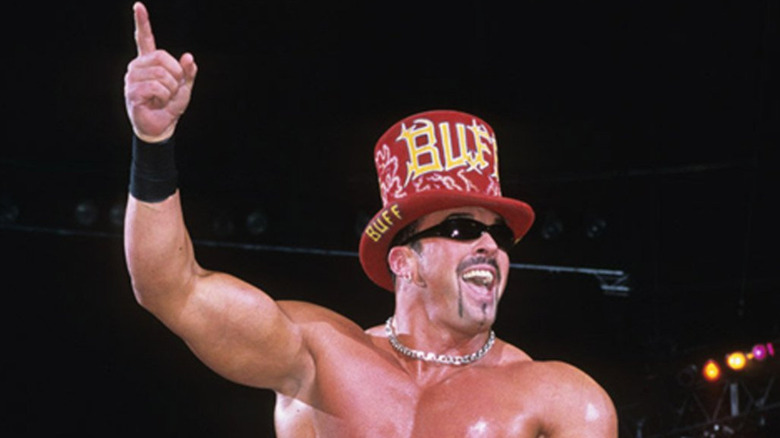 WWE
While Arn Anderson and Buff Bagwell would seem like two wrestlers one wouldn't associate with each other, the duo often crossed paths after Bagwell joined WCW in 1991, wrestling each other numerous times during Anderson's days in the Dangerous Alliance and Stud Stable, and even teaming together briefly on house shows.
On "ARN Anderson discussed his experience with Bagwell,
and how the then 22-year-old really took off during his early WCW days.
"He just kind of really came out of nowhere," Anderson said. "He came, I guess, from the school, and he wasn't really experienced … But I mean, the guy's whole package, his gear, handsome guy, good body, had that Ferlin Husky hairdo, that s**t blowed way back, way up there. He had it all looks-wise, and he had a lot of talent, a lot of babyface skills, good dropkicks, and all kinds of stuff like that, that babyfaces needed. You could tell that kid was heading places." Despite his potential, Bagwell would only become a WCW main eventer towards the promotion's dying days, and never won the WCW World Title. Anderson attributes that less to Bagwell and more to there being so few main event positions.
"He was always figured in, but those top, top spots were few and far between, and it wasn't that easy to move from a middle spot to a top spot," Anderson said. "It just really wasn't, because there was only room for a couple of guys there. And you needed to pay your dues, you needed to earn your way there too. If you had just brought him in and had him win a few matches and then all of a sudden put him with the top guys, the audience would not accept that. You need to earn that."
If you use any quotes from this article, please credit "ARN" with a h/t to Wrestling Inc. for the transcription