A French member of parliament who was allegedly drugged by a senator has described "trembling and sweating" and fearing she was having a heart attack after drinking champagne spiked with ecstasy.
Sandrine Josso, 48, an MP for the centrist MoDem party, spoke out in two television interviews, saying she was "still in a state of shock" after the alleged incident last week.
But, she said, she wanted to raise awareness of the "scourge" of drink-spiking in France. She said it could happen to anyone, anywhere, at any age. "Anyone can go through what I suffered," Josso told France 5 TV, urging the government to take action.
The French parliament was shaken last week when the centre-right senator, Joël Guerriau, 66, was arrested and charged with "administering to a person, without their knowledge, a substance that could alter their judgment or self-control in order to commit a rape or sexual assault". He was also charged with possession and use of substances classed as drugs.
Guerriau, who denies any wrongdoing, has been suspended from his centrist Horizons party and faces calls to resign from the upper house, the senate.
Josso has accused the senator of giving her a glass of champagne spiked with the drug ecstasy.
She told BFMTV that she had known Guerriau as a work friend for 10 years and that, last Tuesday, he had invited her to celebrate his re-election to the senate. They were supposed to meet at a restaurant. "But then he said it would be at his [home]…because there would be less people, less noise and he would cook fajitas," Josso said. She had only been to his home once in the past decade.
While Josso was in the living room, Guerriau poured champagne in his kitchen and brought it out. She said his behaviour was strange: he kept turning the light dimmer switch up very bright and then down low again, and he kept saying cheers and clinking glasses to encourage her to drink, which worried her. "What seemed bizarre was this desire to clink glasses several times, so I would drink again," Josso said. "The champagne didn't taste normal, it tasted sweet."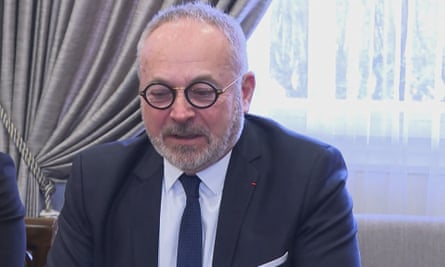 She said doctors had later told her that turning lights up bright then lowering them are thought to activate the effects of a drug.
She said: "I looked into the kitchen and I saw him with a white sachet which he put in a drawer. And at that point, with all the symptoms I had, I understood he had drugs in his hands. I already felt sick, I had heart palpitations and I said to myself: escape, he's drugged you."
She felt she could not show any weakness, but managed to order a taxi on an app. "I summoned the last of my strength and survival instinct and left the apartment saying I was going back to work," she said. Guerriau followed her for what she called "10 horrendous minutes", getting into the lift with her when she was struggling to stand upright, and then following into the courtyard and into the street until she got into the taxi.
"I was trembling and sweating; I understood the trap I'd fallen into," she added.
Josso was helped by the taxi driver and parliamentary colleagues who met her and called paramedics. She then called the leader of the lower house of parliament, Yaël Braun-Pivet, who helped her to file a police complaint. Hospital tests taken by Josso are said to have revealed the presence of ecstasy.
Rémi-Pierre Drai, Guerriau's lawyer, told local public radio, France Blue Loire Océan at the weekend, that the senator had "absolutely no intention of administering a substance" to Josso in view of a rape or sexual assault, and was "absolutely not a sexual predator".
Drai said that the senator had made a "mistake" in serving the glasses. Drai said the senator had acquired a substance "which he did not know the nature of, and didn't know it was ecstasy" from someone at the senate during the September election campaign, which he was finding difficult.
He said Guerriau had not taken the substance in September but had thought about taking it one night last week, because he was alone in Paris, his cat had died, and a friend had cancer. He did not take the substance but left some of it in a champagne glass and accidentally the next day served that glass to Josso. "There was no trap and no will to drug her," Drai said.
The rightwing speaker of the senate, Gérard Larcher, on Monday urged Guerriau to suspend all activities linked to his job as senator due to "the extreme seriousness of the accusations he faces".