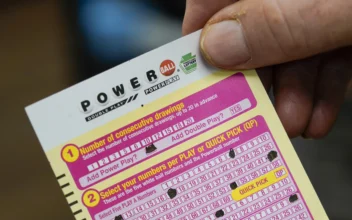 DES MOINES, Iowa—The numbers were drawn Saturday night for an estimated $960 million Powerball jackpot and players across the country are waiting to see if there's a big winner.
The winning numbers announced were: 19, 30, 37, 44, 46, and red Powerball 22.
Lottery official usually take several hours to determine if any player has won the giant jackpot.
The $960 million jackpot is for a sole winner who opts for payment through an annuity, doled out over 30 years. Winners almost always take the cash option, which for Saturday's drawing would be an estimated $441.4 million.
Those winnings would be subject to federal taxes, and many states also tax lottery winnings.
The jackpot now ranks as the world's ninth-largest lottery prize of all time, behind earlier prizes in the Powerball and Mega Millions games that all topped $1 billion.
The jackpot has grown so large because there have been 29 consecutive drawings without a big winner, dating back to July 19. Powerball's terrible odds of 1 in 292.2 million are designed to generate big jackpots, with prizes becoming ever larger as they repeatedly roll over when no one wins.
The largest jackpot was a $2.04 billion Powerball prize hit by a player in California in November 2022.
In most states, a Powerball ticket costs $2 and players can select their own numbers or leave the task to a computer.
Powerball is played in 45 states, as well as District of Columbia, Puerto Rico, and the U.S. Virgin Islands.