We have entered an era where World Cup tournaments feel like the equivalent of a four-hour director's cut: brilliant but flawed, with too many throwaway scenes before the thrilling denouement. The men's Cricket World Cup took 38 days and 45 matches to whittle 10 teams down to four semi-finalists – which, astonishingly, was 10 days longer than the entire 2022 Fifa World Cup in Qatar. Meanwhile its rugby union equivalent needed a month and 40 games to shave 20 countries to eight. And yet we ain't seen nothing yet.
In 2027, cricket and rugby union will have four more teams and yet more matches. The 2026 football World Cup in the US, Canada and Mexico is going Super Size Me: from 32 teams to 48, and 64 matches to 104. Academics have an umbrella term for tournaments so big that millions across the globe gravitate towards them: sporting mega-events. Think World Cups. Think Olympic Games. Think big, big, big. But is big always better?
The Guardian has spoken to more than a dozen experts in sports leadership, broadcasting, marketing and academia to find out. Along the way we also asked why, at a time when we are constantly being told that viewers' attention spans are shortening, are we witnessing a growth spurt in the length of sporting events? And do some sports even risk killing the golden goose?
The obvious question – "why are sports doing this?" – also has an obvious answer: cash and the chance to make lots more of it. "The number one KPI for the guys in charge of sports is to generate more money," says the sports marketing expert Tim Crow, who started his career with the Test and County cricket board, now the ECB, and later became a key mind behind the marketing of the London 2012 Olympics. "It's as simple as that. And the more inventory you give television, the better your deal is going to be."
Of course it's the economy, stupid. Fifa made total revenues of $7.5bn during the last World Cup cycle between 2019 and 2022, the most profitable in its history, with $6bn generated from the tournament in Qatar alone. It knows it has a captive audience. So why not offer even more games, and accrue the benefits?
Sport also has a huge advantage in that its TV audiences are remarkably sticky. In the United States, for instance, 94 of the top 100 television ratings of 2022 were for sport. While in the UK, England's World Cup quarter-final against France was the most watched show of last year with a 16.1m audience, ahead of the Queen's state funeral, the platinum jubilee and I'm a Celebrity … Get Me out of Here!
Notably in a world where there is so much competition for eyeballs – from streaming services, YouTube, Tiktok and more – and far fewer TV shows that we all tune in for, sport offers that rare thing: cultural touchstones and communal experiences.
As Charles Beall, the VP of digital strategy, at the global giant IMG puts it: "The power of sport in this ever-increasing battle for attention is second to none. And premium live sport will always cut through, add value to audiences and platforms, and attract and retain viewers."
Many sports also like to talk about "growing the game", which expanding World Cups certainly allows them to do. But perhaps there is sometimes a defensive measure in all this. Most viewers are "big eventers" now. We don't have the time to follow the cough and spit of every sport. A World Cup serves as a shop window and shorthand to say an event matters – so why not make it longer?
Yet not everyone thinks this latest trend is a good thing. One very senior person told the Guardian that he feared some sports were risking "overkill" and "going off a cliff" with too many meaningless games that flog players and leave fans bored. "The next time you see Gianni Infantino, ask him when do you think Fifa can get to 206 teams for the World Cup," he added. "It's reductio ad absurdum."
You can see his point. Sport is supposed to be about unpredictability and jeopardy. But the recent qualifiers for Euro 2024 in Germany had very little of either. And while the men's Cricket World Cup had some stunning upsets – Afghanistan beating England and Netherlands toppling South Africa – its prolonged group stage dramatically lowered the value of such victories, while the startling lack of close matches didn't help either.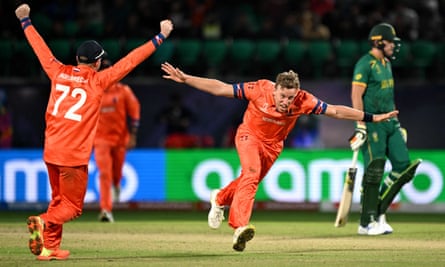 Did the lack of excitement affect TV audiences? Perhaps. It is understood that Sky's viewing figures didn't do as well as expected, but internally that has been put down to England's poor campaign.
However Ed Warner, the former chair of UK Athletics, says that the lack of full stadiums in India should serve as a wider warning. "When I was with UKA, the BBC always told us that it was crucial to sell out our events," he says. "They said that people will turn off if they see empty stadiums. If no one cares enough to go, why should viewers bother?"
The Rugby World Cup, which was played to sellout crowds, didn't face such issues. But while its knockout stages were riveting, the group stages were anything but. Just eight out of 40 games ended with a score of seven points or fewer between the teams at full time, while the average winning margin across the pool stages was nearly 32 points. Of the eight quarter-finalists, only Fiji came as a surprise.
Does the lack of competitive balance matter to fans? Surprisingly not, according to Dr Robbie Butler, an economist at the University College Cork. "There is a sizeable body of literature that finds supporters, across different sports, don't care if contests are balanced," he says. "In recent years this has been witnessed across sports such as Formula One, tennis, golf, and boxing. Our recent work on F1 – a sport dominated by two teams since 2010 – found US fans were not motivated to watch because of increased competition and were happy to see a dominant Lewis Hamilton or Max Verstappen win."
Another prominent economist, David Forrest of the University of Liverpool, has also written persuasively and extensively about star power trumping uncertainty when it comes to TV audiences. However Crow, who now sits on the IOC's esports commission, says that sports would be wrong to assume that young fans don't care about jeopardy.
"Jeopardy is incredibly attractive to the young," he says. "In esports, when a game is going to be a walkover versus when two top teams go against each other, you can see the difference in terms of eyeballs. And pay-per-view boxing and combat sports are also very popular amongst the young. They are disproportionately attracted to it because of the jeopardy."
So what might happen next? According to Crow, the growth of the bigger sporting mega-events is likely to lead to others being crowded out. "I think we will see several sports who are quite big now really struggling," he says. "And in some cases probably disappear from the top tier map."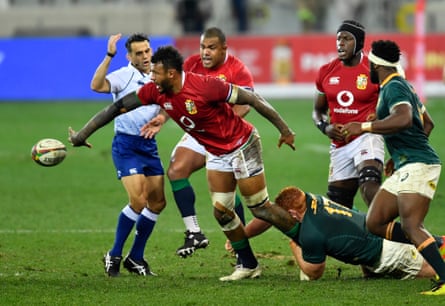 Crow refuses to say which sports he is talking about, as he might upset people who he works with. "But it doesn't take a lot to work out who they are when you look up their revenue graph, profit graph, and fan bases."
Meanwhile Beall, who is an expert on the changing audience trends, says people are wrong to say that younger sports have limited attention spans. Rather, with phones and the internet so readily available, they have infinite possibilities vying for their eyeballs. "Audiences won't tolerate being bored," he says. "They can switch much more easily and this is what's driving the shortening of sports formats."
Beall expects this to continue – and he says sports must adjust the way they market and sell their sport to keep up. "Now, any small slot of time can be an entertainment moment: when you're waiting in a queue or on that journey that was otherwise empty wasted time," he says, pointing to the particular success of TikTok in offering short-form content. "Sports need to continue to innovate across everything from competition format, to production elements like vertical feeds, multi-screen content, customised localisation, in-stadium technology and data, and more interactivity with influencers – Peyton and Eli Manning's Manningcast being a great example."
But, like many of the others the Guardian has spoken to, Beall also recognises the value of sports that have stood the test of time. "All sports need to be cognisant of over-saturation," he says. "The Ryder Cup, Olympics and Lions Rugby derive their 'special' status precisely because they have a scarcity value that attracts significant fan interest at key moments."
In other words, nurture the golden goose – but don't risk killing it.