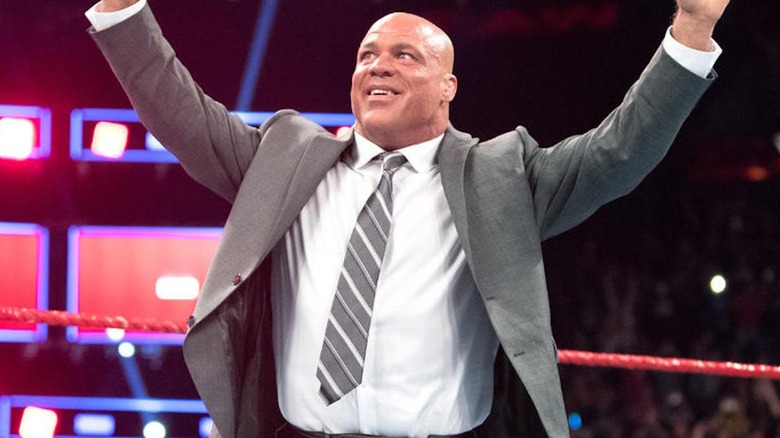 WWE
Guitar shots in wrestling look a lot worse than they feel, at least according to WWE Hall of Famer Kurt Angle, who has taken more than his fair share over the years. 
On the latest episode of "The Kurt Angle Show," which focused on events surrounding TNA's No Surrender pay-per-view in 2008, host Paul Bromwell referenced a guitar shot from AJ Styles on an episode of "Impact," as well as another from Jeff Jarrett at the pay-per-view itself, and asked Angle how badly those shots really hurt.
"They don't hurt," Angle professed matter-of-factly. "But they always make you bleed."
The Olympic gold medalist lists the makeup of the guitars themselves as opposed to the viciousness of the move — or whomever, in particular, is delivering it — as the reason for the damage that he often experienced.
"It's not really that hard of a shot," he explained. "It's the wood splinters and it digs into your head. You end up with horrible cuts."
As for the Styles spot that sparked the conversation, Angle still recalls it very precisely, even all these years later, noting that there was nothing gimmicked about his wearing the crimson mask thereafter.
"I probably had about five stitches in my head after that night," he remembered. "That was [done] the hard way."
While Styles' shot caused Angle to bleed immediately from the forehead, the guitar from Jarrett cost him the TNA World Heavyweight Championship in a Three Ways to Glory match, won by Samoa Joe in No Surrender's main event. While Angle has hung up his wrestling boots, "Double J" is still delivering the occasional "Acoustic Equalizer" these days for AEW.
If you use any quotes from this article, please credit The Kurt Angle Show with a h/t to Wrestling Inc. for the transcription.