An analysis shows that the market value of Anheuser-Busch InBev, the maker of Bud Light and Budweiser, dropped more than $15 billion since April 1—or the day that transgender influencer Dylan Mulvaney pitched the Bud Light brand during an NCAA tournament.
Citing S&P Global Market Intelligence, Investor's Business Daily said in its report that Anheuser-Busch saw its market value drop by more than $15.7 billion since April 1, while other publicly traded beer brands have seen $3.2 billion added at the same time.
Jared Dinges, an analyst at JPMorgan Chase wrote in a note to clients Tuesday, that Bud Light sales were down 23 percent as of the week ending May 6. And he wrote that in the near term, a number of American consumers won't drink the beer.
"We believe there is a subset of American consumers who will not drink a Bud Light for the foreseeable future," Dinges wrote, according to the report. "We believe a 12 percent to 13 percent volume decline on an annualized basis would be a reasonable assumption."
A Bud Light beer can with Mulvaney's face was made for the transgender activist and influencer, who posted the beer on TikTok and other social media platforms, triggering a widespread backlash sparked by multiple conservative influencers and musicians. Mulvaney, a biological male, also signaled a partnership with the brand, writing "#budlightpartner" in one of the posts, although the CEO of Anheuser-Busch, Michel Doukeris, told investors several weeks ago that there was no partnership and only one can was made with Mulvaney's face and wasn't for sale.
Since March 31, or a day before the transgender influencer posted the Bud Light can, Anheuser-Busch InBev's stock has fallen 14 percent from its 52-week closing high. As of Thursday morning, the company's shares slid another 1.06 percent.
"Shares (Of Anheuser-Busch) have underperformed EU Beer peers by 15 percent since the start of April," Dinges noted. "We believe this is due to U.S. uncertainty, as investor focus has shifted squarely to the potential impact from the Bud Light controversy."
The Epoch Times has contacted Anheuser-Busch for comment regarding the analysis.
Marketing Moves
It came as sales of the light beer dropped 24.6 percent for the week that ended May 13 compared to a year ago, coming after the aforementioned 23.6 percent drop a week prior, according to data released by Bump Williams Consulting and Nielson IQ research. Rival beers made by Coors and Miller saw sales increases during the same timeframe, the data revealed.
Marketers for Bud Light, meanwhile, have launched a campaign to provide rebates for customers for Memorial Day. Consumers can get up to $15 back on the digital rebate under the promotion, essentially giving a 15-pack of beer away.
"MAKE YOUR MEMORIAL DAY WEEKEND EASIER TO ENJOY. GET UP TO $15 BACK VIA REBATE," it says.
At the same time, some local distributors have tried to get back Bud Light customers. In Alabama, Bama Budweiser distributor released an advertisement that attempted to distance Bud Light from Mulvaney.
"We too at Bama Budweiser are upset about it and have made our feelings known to the top leadership at Anheuser-Busch," Steve Tatum, with Bama Budweiser, said in a radio advertisement. "The voice of the consumer has been heard, and Anheuser-Busch has taken action."
The ad also said that "Mulvaney is not under contract with Bud Light" and that "videos you may have seen are Mulvaney's own social media posts that went viral, and many web-based news outlets have distorted the story." It didn't elaborate on such distortions.
"You deserve to know the truth, and life is too short to let a couple of individuals decide what you can eat or drink or spend your hard-earned money on. And remember, making friends is our business, not enemies," the ad said.
His advertisement echoed statements made by Doukeris, the Anheuser-Busch chief executive, to the Financial Times in which he said that "misinformation" and "confusion" are what triggered the boycott and decline in sales. But he stressed to investors that AB has only seen a 1 percent drop in its overall global volume.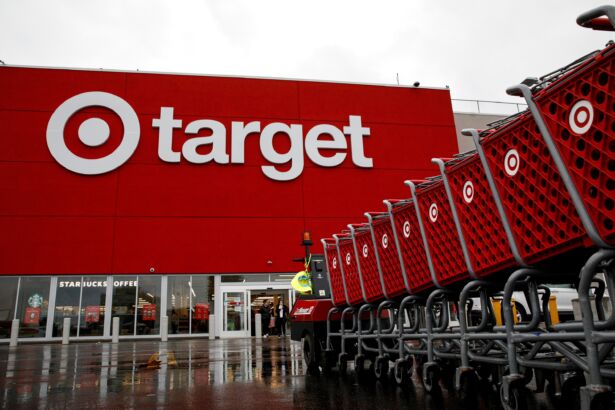 Other Boycotts
In recent weeks, other than Bud Light, several other major companies have come under fire for what critics say are attempts to pander to the LGBT crowd. This week, conservative influencers called for a boycott of Target after it debuted its latest line of pro-LGBT clothing, including items made for infants and small children.
On social media, some prominent commentators called for consumers to give the "Bud Light treatment" to Target, which has faced boycotts in previous years for its decision to implement a transgender bathroom policy.
"I cannot state enough how important is for people to choose not to shop at target. There has never been a company that has been more pro-transgenderism than Target," wrote Daily Wire commentator Candace Owens this week.
Target on Tuesday evening confirmed that it removed some of its "Pride Month" items and claimed that store employees are facing undisclosed threats.
From The Epoch Times
Sign up for NTD Daily
What you need to know, summarized in one email.
Stay informed with accurate news you can trust.
Success! You are now subscribed.