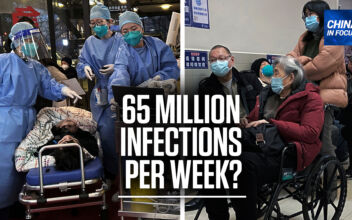 Moderna is setting up shop in China as fears of another COVID-19 wave in the country rise. The vaccine maker says it has registered in China. So far, the country has only vaccinated its population with domestic vaccines. Stocks shot up at the news. This comes amid warnings from China's top health adviser that China could see 65 million infections per week come summer.
Topics in this episode:
Moderna Sets Up Shop in China Amid Fears of a 65M Per Week Infection Wave
U.S. Gov't Warns of Chinese Hacking Threats
China's Role in the U.S. Electrical Grid
U.S., Chinese Commerce Chiefs Address Trade Concerns
DOJ Charges Chinese Agents in Bribery Scheme
House Passes Bipartisan Bill Targeting Fentanyl
Examining 'Loopholes' in U.S. Trade Policy
Aquilino: U.S. Confident It Could Win a War Over Taiwan
Pentagon: China Refusing Talks with U.S. Military
Chinese Vessel Enters Vietnamese Waters for Patrol
New U.S. Platform Seeks to Protect Data Privacy
China in Focus is sponsored by Preserve Gold. Click here to claim your $200 and 1% cash-back in free gold and silver*: http://offers.preservegold.com/ntd
China in Focus Weekly Newsletter
Find out what's really going on in China
Success! You are now subscribed.