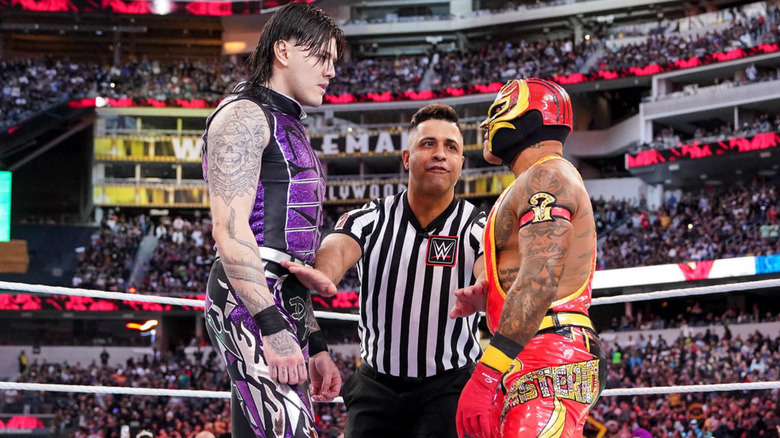 WWE
Dominik Mysterio achieved something not many wrestlers can proudly flaunt: wrestling his Hall of Fame father at WrestleMania. The junior Mysterio has now opened up about what he did following his match with his father, Rey Mysterio, at this year's WrestleMania 39.
"After the match, I got back to my hotel room – we were in LA so there were food vendors outside our hotel. I think it was like 2 in the morning, and it was just me and my best friend, my buddy Daniel," said Mysterio to "Metro." "I texted him, I was like, 'Hey I'm gonna go get some food, I'm not too tired,' because my adrenaline I think was still going. It was me and him, we walked out there, we got some hot dogs."
Mysterio discussed how it felt to face his father at "The Show of Shows," stating that it was a surreal feeling while also disdainfully proclaiming that he gave his father a beatdown.
"I was like, 'Dude… I just wrestled my dad at Wrestlemania. This is pretty surreal!' I was like, 'Damn, and I beat his ass!'"
The feud between the father-son duo began after Dominik betrayed his father and joined The Judgment Day faction at Clash at the Castle in September 2022. Dominik goaded and challenged his father to fight him on a number of occasions, only to be turned down by Rey. The Hall of Famer eventually relented after Dominik's personal remarks towards his sister and mother, and the match was set up for WrestleMania 39. 
At "The Show of Shows," Rey got the win over his son, despite Judgment Day getting involved in the match, while Rey got some help from musician Bad Bunny.