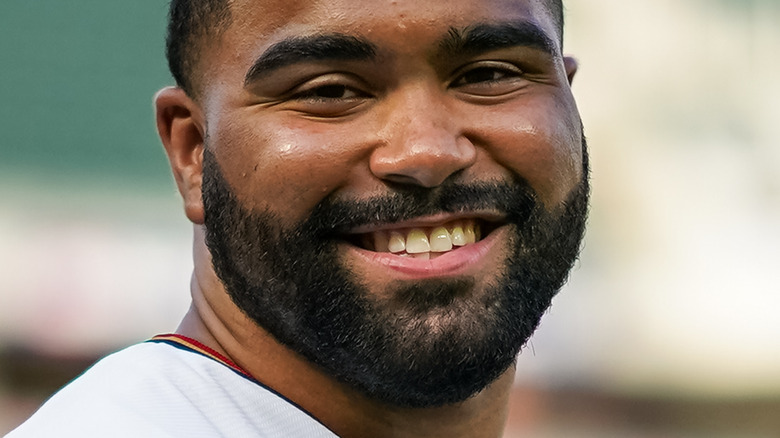 Brace Hemmelgarn/Getty Images
Though he has yet to make his official in-ring debut, Gable Steveson hopes that WWE sees the progress he's been making while training at the WWE Performance Center. In a recent interview with KSTP Sports, the Olympic gold medalist discussed his ongoing training and his vision of performing on WWE television.
"I want to go out there on TV. I want to be the person people thought I was and I don't want any doubt in my mind that I'm not," Steveson said. "I'm getting the hang of doing everything the correct way – landing right, match psychology, everything in between. I'm flourishing and hopefully they see it, too."
After signing with the company in September 2021, Steveson was drafted to "WWE Raw" the following month. He later appeared during night one of WrestleMania 38 as he was introduced to the fans in AT&T Stadium by Stephanie McMahon. The following night, Steveson delivered a belly-to-belly suplex to Chad Gable. Steveson's most recent WWE appearance occurred in December 2022 as he accompanied WWE Hall of Famer Kurt Angle to Angle's birthday celebration on "SmackDown." Later in the night, Stevenson confronted Chad Gable once again as he and Angle doused Alpha Academy (Otis & Chad Gable) in milk.
As of this writing, it remains unclear when Steveson may finally make his official in-ring debut for WWE, but whenever it does happen, Steveson says he's looking forward to showcasing the "real" version of himself. "I'm excited because people haven't really seen the real Gable because amateur wrestling kind of shelves a portion because we're used to guys being disciplined," he said.