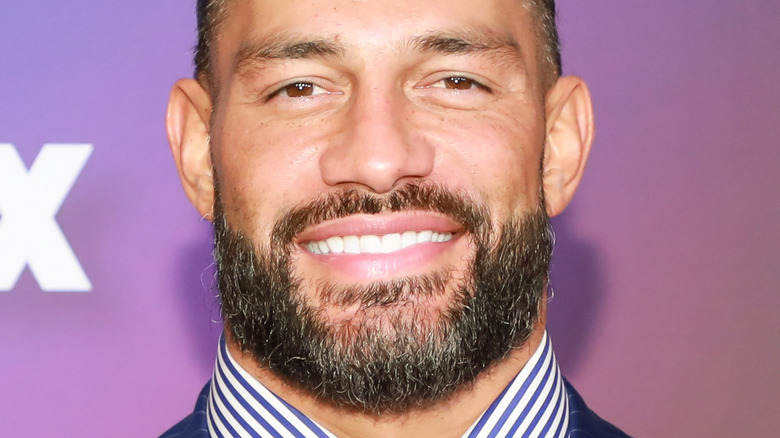 Jason Mendez/Getty Images
Over the last three years, it has been nearly impossible to beat Roman Reigns, but one WWE Hall of Famer believes "The Tribal Chief" may eat a rare defeat this Saturday at WWE Night of Champions.
This weekend, Reigns will partner up with Solo Sikoa to challenge Kevin Owens and Sami Zayn for the Undisputed WWE Tag Team Championships. In anticipation of the Night of Champions event, Kurt Angle has made a bold prediction for this tag team match. "I haven't had very much luck going against Roman Reigns, but you know what? I'm going to go with Kevin Owens and Sami Zayn [as the winners]. They're going to go over strictly because Roman Reigns already is holding two world titles," Angle said, referring to WWE Championship and Universal Championship, which are both currently held by Reigns. "Now I could be wrong. They might end up putting all the freaking titles on Roman Reigns, maybe even the new World [Heavyweight Championship]."
Angle reiterated that he's not telling WWE what to do, but he believes it might be beneficial for the company to build other wrestlers as champions, instead of strapping all of the gold on one person. "You got to build your company. You can't rely on just one guy, and I'm not saying they're doing that with Roman, but they're on their way to doing that," Angle said.
Should Reigns and Sikoa walk out with a victory at Night of Champions, Reigns will officially own four championships at once. Regardless if he wins or not, though, Saturday will mark Reigns' 1,000th day as the Universal Champion. WWE has already begun celebrating this milestone as they created a photo gallery to look back on his historic reign.