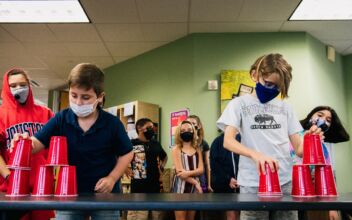 Children participate in an activity in class at the Xavier Academy in Houston on Aug. 23, 2021. (Brandon Bell/Getty Images)
Amid a small increase in COVID-19 hospital admissions in recent days, a handful of schools and colleges across the United States have re-imposed mask mandates—or at least started recommending them.
In the most recent example, a school in Montgomery County, Maryland, announced it would mandate masking for at least 10 days after three students tested positive for the virus in one classroom. The masking rule applies to students, teachers, and other staff in the classroom, it said.
A letter posted by the  Rosemary Hills School online said that KN95 masks have been distributed to students and teachers in the classroom. At-home rapid testing kits were also sent home.
"Additional KN95 masks have been distributed and students and staff in identified classes or activities will be required to mask while in school for the next 10 days, except while eating or drinking," Principal Rebecca Irwin Kennedy said in a letter, dated Sept. 5.
The re-imposition of mandates is being done "to keep our school environment as safe as possible for in-person teaching and learning, and to prevent further transmission of COVID-19 in this group," she continued.
The Montgomery County school district policy says that masks are optional, with some exceptions, according to a message viewed by local station WTOP-TV. The district said that in certain instances, "masks may be recommended or required."
"It is important that everyone continue to practice healthy habits, such as good handwashing, covering coughs and sneezes, and staying home when sick. These vital health strategies and vaccination are key prevention measures we use every day to prevent the spread of illness in our schools," Montgomery County health official Patricia Kapunan said, according to local reports.
For this school year, she added, "other measures may be temporarily introduced during outbreaks, including screening testing, distancing, and masking to control spread in a specific space where transmission is high."
"Multiple strategies are used, and students who cannot safely and consistently mask due to young age, a medical condition, or developmental disability are not required to do so," Ms. Kapunan added.
Last month, school officials with the Kinterbish Junior High School in Kinterbish, Alabama, issued a message on social media that "due to the slow raise [sic] of COVID cases in the area, students, employees, and visitors are asked to wear facial masks." It did not say how long the mandate would be in effect.
Also in Alabama late last month, the Talladega City Schools wrote on Facebook that masking is being encouraged among staff members and students. However, face coverings are not required.
In a subsequent post, Talladega officials said that it's not a mandate. "Masks are encouraged but not required," the post said.
In Atlanta, Morris Brown College's president released a statement on social media that it would require masks for two weeks amid what it said was an uptick in COVID-19 cases at a larger campus where the school is located. The school president confirmed to media outlets over the weekend that the mandate has ended.
Last week, New York Gov. Kathy Hochul announced the state would be providing schools with more masks and COVID-19 tests. She said districts need to review the Centers for Disease Control and Prevention's guidance for COVID-19 and schools, which doesn't recommend masks.
Canceled Classes and Other Rules
Several days ago, the Philadelphia school district unveiled its COVID-19 policy for the year, making masks optional in most cases unless a student is coming back from isolation due to a positive COVID-19 test or if the district deems masking necessary. Students who test positive have to isolate for five days before coming back as long as no symptoms are present, according to CBS Philadelphia.
School districts in Kentucky and Texas also recently canceled classes over what school officials say are increases in respiratory illnesses, including COVID-19, which led to increases in student absences, it was reported.
"We're seeing a lot of illness being reported consistent with COVID and influenza," Scott Lockard, public health director for the Kentucky River District told ABC News. "Lee County had a surge of cases and attendance dropped below the threshold needed to stay open, so they closed."
And in Texas, the Runge Independent School District in Karnes County told parents that it would shut down for a week ending on Aug. 29 due to COVID-19, KSAT reported.
"The safety and well-being of our students, staff, and community is a top priority," Superintendent Hector Dominguez Jr. said in a statement.
Meanwhile, a multitude of hospitals and medical facilities in several states, including New York, Massachusetts, and California, have reimposed mask mandates, although some only apply to doctors, nurses, and other staff. However, several hospitals in Upstate New York have required masking for patients and visitors, too.
As reports of mask mandates spread, some Republicans, including former President Donald Trump, have said Americans should resist masking, lockdowns, and other mandates.
Sen. J.D. Vance (R-Ohio) recently introduced a bill that would ban federal agencies from requiring masks, while some congressional Republicans said they won't vote for any bill that includes funding for COVID-19 rules. In a release, he said that his Freedom to Breathe Act "would prevent the reimposition of federal mask mandates for domestic air travel, public transit systems, and primary, secondary, and post-secondary schools," and he urged its passage.
From The Epoch Times