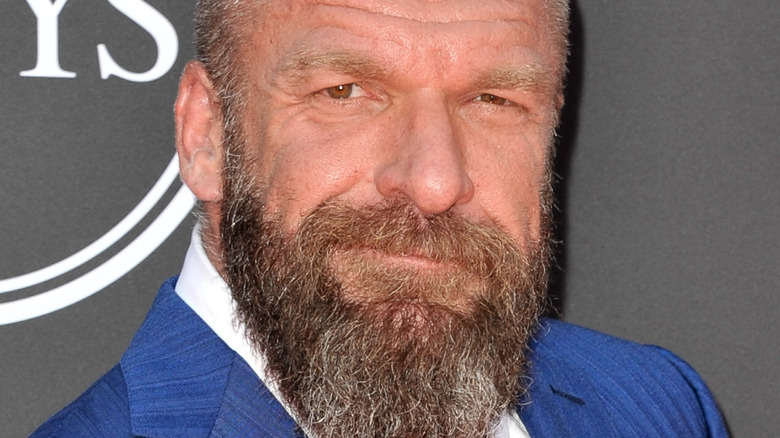 Allen Berezovsky/Getty Images
WWE Night of Champions from Jeddah, Saudi Arabia is less than a day away. With three main event matches scheduled, including a bout to crown a new WWE World Heavyweight Champion, it promises to be a massive event. So massive in fact, that in the press conference leading up to the show, Chief Content Officer Paul "Triple H" Levesque was able to boast about how quickly tickets sold.
"The momentum and the interest in WWE obviously here in Saudi Arabia continues to grow and grow, and that is something that we are very excited about," he said. "Night of Champions proved to be the fastest-selling event here in the history of us coming to Saudi Arabia, so thank you to all of you."
Levesque didn't stop his thanks there, making sure to mention the Custodian of the Two Holy Mosques — King Salman bin Abdulaziz Al Saud — as well as Crown Prince Mohammed bin Salman Al Saud. Night of Champions marks the ninth major event WWE has held in Saudi Arabia since the Greatest Royal Rumble in April 2018, and Levesque was sure to thank the General Entertainment Authority (GEA) as well, noting that without their efforts, "none of this would be possible."
From there, it was all about hyping up Saturday's big show. Bringing up Crown Jewel in Riyadh last November, Levesque referenced Logan Paul's top rope plunge to the outside of the ring, which the social media megastar filmed himself performing. That video caught fire, racking up more than 53 million views, and Levesque promised that Saturday will be just as entertaining.
"You are in for a night just like that," he declared. "You are in for a night that will make history."