Tom Sandoval, known for his unique fashion choices, found himself in the midst of controversy when an article accused him of "ruining" white nail polish for everyone. The article, published by Glamour, suggested that Sandoval's frequent use of white nail polish as his signature manicure color had made it less desirable for fans of the show and beyond. In response, the 40-year-old reality TV personality took to Instagram Stories to share his thoughts and demand to be tagged if anyone had negative comments to make.
Defending his fashion choices
Sandoval shared screenshots of the Glamour article and expressed his disappointment with the publication. He questioned whether the magazine, which focuses on positivity and glamour, should resort to "trashy" content. He also pointed out that his fashion choices, including his nail polish color, were not limited to white and that he often wears various colors during Michigan PRIDE shows.
Fan reactions and backlash
The criticism faced by Sandoval extended beyond the Glamour article. Fans took to social media to express their dissatisfaction with his white nail polish preference. Some claimed that they would no longer wear white nail polish because of him. The comments ranged from playful jabs to more serious declarations of abandoning the color altogether.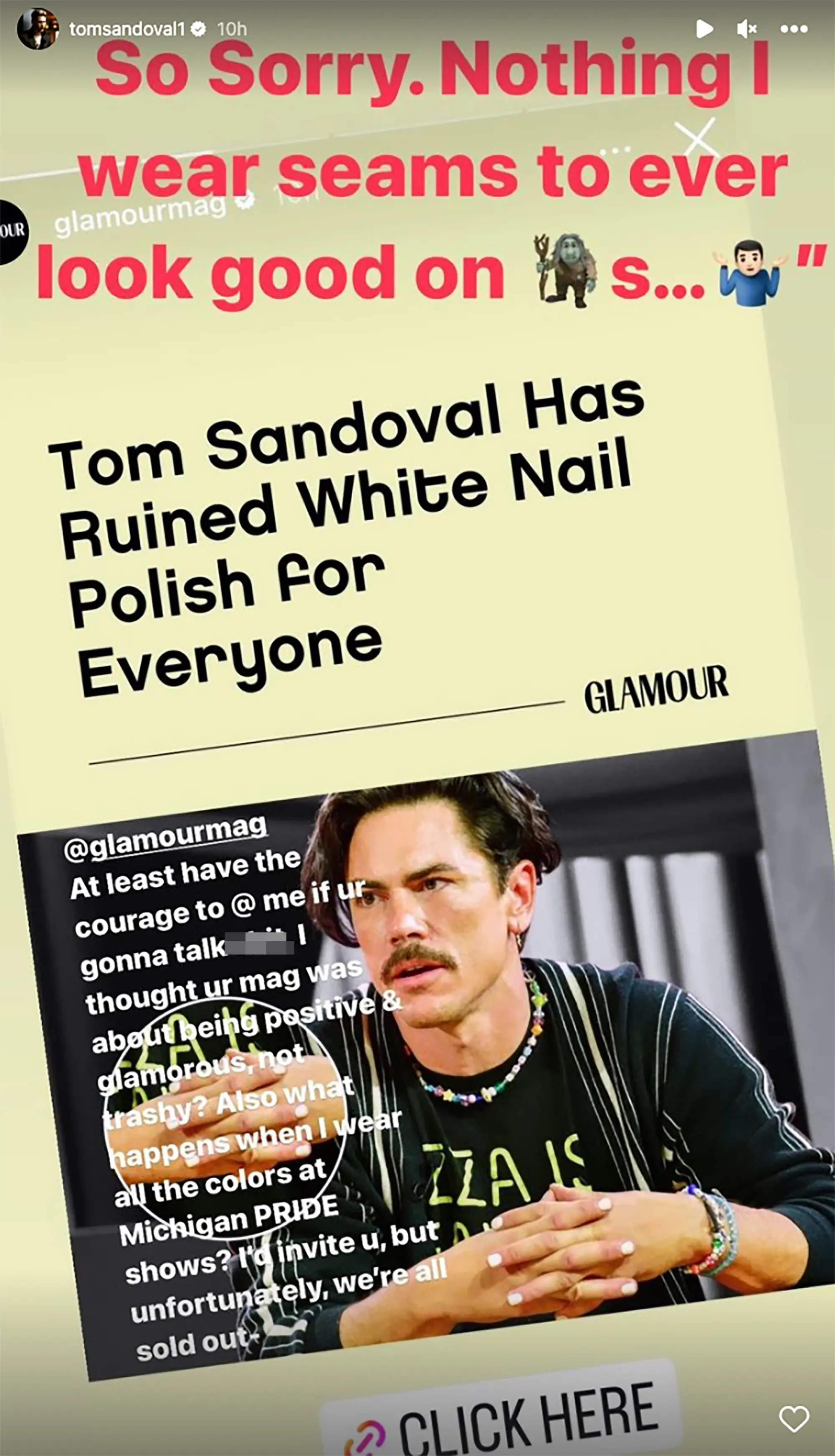 Nail polish controversy amid relationship drama
The controversy surrounding Sandoval's nail polish choice coincides with the fallout from his scandalous affair with "Vanderpump Rules" co-star Raquel Leviss. Earlier this year, news broke about Sandoval cheating on his longtime girlfriend, Ariana Madix, with Leviss. The affair created significant tension among the cast members and has become a central storyline in the show's Season 10.
As Season 10 of "Vanderpump Rules" concludes, viewers are witnessing the aftermath of the scandal during the reunion taping. The first part of the reunion saw Madix and Sandoval engage in a heated confrontation while Leviss watched from a nearby trailer due to a temporary restraining order. While the relationship between Sandoval and Leviss has come to an end, Madix has moved on and is currently dating Daniel Wai, a personal trainer based in New York. As the nail polish controversy subsides, fans eagerly await the rest of the reunion episodes to see how the cast resolves their conflicts.
ALSO READ: Vanderpump Rules season 10 reunion: Premiere time, fan reactions and uncensored episodes schedule