New York Mayor Eric Adams attends a press conference in N.Y.C. on July 31, 2023. (Michael M. Santiago/Getty Images)
New York City Mayor Eric Adams warned Wednesday night that the illegal immigration crisis under the Biden administration will "destroy" his city, pointing out that he doesn't see an end to the problem as the Big Apple continues to struggle with an influx of tens of thousands of migrants from the southern border.
Mr. Adams made the remarks during a town hall meeting in the Upper West Side neighborhood of New York City, saying buses of illegal immigrants seeking asylum "from all over the globe" are arriving in the city.
"Let me tell you something, New Yorkers. Never in my life have I had a problem that I did not see an ending to. I don't see an ending to this. This issue will destroy New York City. Destroy New York City," the Democrat mayor said. "The city we knew, we're about to lose," he added.
More than 110,000 illegal aliens have come to New York City since the spring of 2022, with about 60,000 currently remaining in the city's care, Mr. Adams said on Sept. 6, announcing the opening of a shelter in Long Island City that can house up to 1,000 illegal immigrants seeking asylum.
"We're getting 10,000 migrants a month," Mr. Adams said, noting that primarily Venezuelans arrived in the city at first, but now there are also Ecuador nationals as well as Russian-speaking individuals going through the U.S. southern border and coming to New York City.
"Now we're getting Western Africa, now we're getting people from all over the globe that have made their minds up that they're going to come through the southern part of the border and come to New York City," he continued.
Mr. Adams has estimated that the illegal immigration crisis could cost the self-declared "sanctuary city" $12 billion over three years if things don't change. The issue has also worried New York Gov. Kathy Hochul, who called on President Joe Biden in a letter (pdf) on Aug. 24 to direct the federal government and help provide the state with housing, support, and work authorization for illegal immigrants.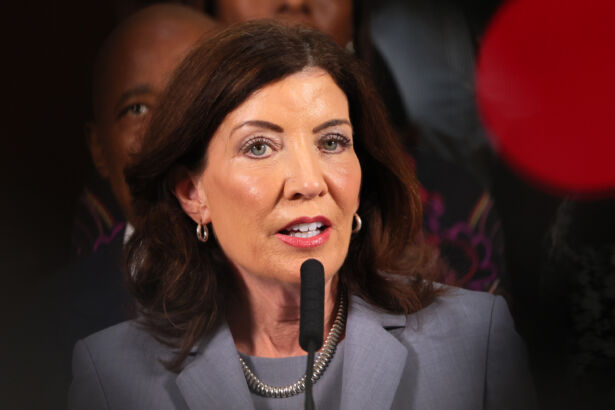 "With the arrival of over 100,000 asylum seekers and migrants in the past year, coupled with the sustained arrival of hundreds if not thousands to the City every week, the federal government must partner with the City and State in handling this humanitarian crisis," Ms. Hochul wrote.
However, the White House has since pushed back on Ms. Hochul's public plea, saying its ability to help the state's illegal immigration problem is limited without congressional action.
Adams Takes Aim at Texas Governor
Mr. Adams blamed New York's massive influx of illegal immigrants on Texas Gov. Greg Abbott, as well as President Biden's failure to address the unrelenting crisis.
It started with the governor "down in Texas who decided he wanted to bus people up to New York City," Mr. Adams said during Wednesday's town hall event. Mr. Abbott has bused thousands of illegal immigrants to various Democrat-led cities across the United States, including New York City, Chicago, Los Angeles, Washington, and Philadelphia.
Now there are "110,000 migrants we have to feed, clothe, house, educate the children, wash their laundry sheets, give them everything they need, health care," he added.
Mr. Abbott said in a Sept. 5 statement on X—the platform formerly known as Twitter—that the Lone Star State's busing program has bused "over 35,000 migrants to self-declared sanctuary cities" since the initiative's launch in April 2022.
Texas has bused over 35,000 migrants to self-declared sanctuary cities.

Over 11,300 to DC
Over 13,300 to NYC
Over 6,700 to Chicago
Over 2,600 to Philadelphia
Over 1,000 to Denver
Over 480 to LA

Our busing mission provides critical relief to overwhelmed Texas border towns.

— Greg Abbott (@GregAbbott_TX) September 5, 2023
Despite cities such as Los Angeles threatening legal action over Texas's program of busing illegal aliens away from border towns, Mr. Abbott has maintained his position, citing the overwhelming conditions in the state's border region due to migrants crossing the U.S.-Mexico border illegally.
Mr. Abbott's office has consistently pointed to Los Angeles's status as a sanctuary city as a key reason for directing illegal immigrants there. They noted that illegal immigrants on the buses sign a multi-language consent waiver indicating their intended destination.
On Aug. 30, the Los Angeles City Council voted unanimously to approve a motion that requested the City Attorney's Office to initiate an investigation into potential criminal actions by Mr. Abbott when he sent 42 illegal immigrants on a 23-hour bus journey to downtown Los Angeles in June.
Mr. Adams, meanwhile, also criticized President Biden's lack of help to assist New York City in coping with the city's influx of migrants seeking asylum.
"Month after month I stood up and I said, 'This is going to come to a neighborhood near you.' Well, we're here … we're getting no support on this national crisis, and we're receiving no support," he said in an apparent jab at President Biden.
Republicans, including Mr. Abbott, have also cast the blame on President Biden, Vice President Kamala Harris, Homeland Security Secretary Alejandro Mayorkas, and other administration officials for failing to secure the U.S.-Mexico border.
According to the Federation for American Immigration Reform (FAIR), there are more than 15 million illegal immigrants in the United States as of the beginning of 2022—a jump of approximately 3 million immigrants since 2017. American taxpayers spend at least $182 billion annually on illegal immigration as of the beginning of 2023.