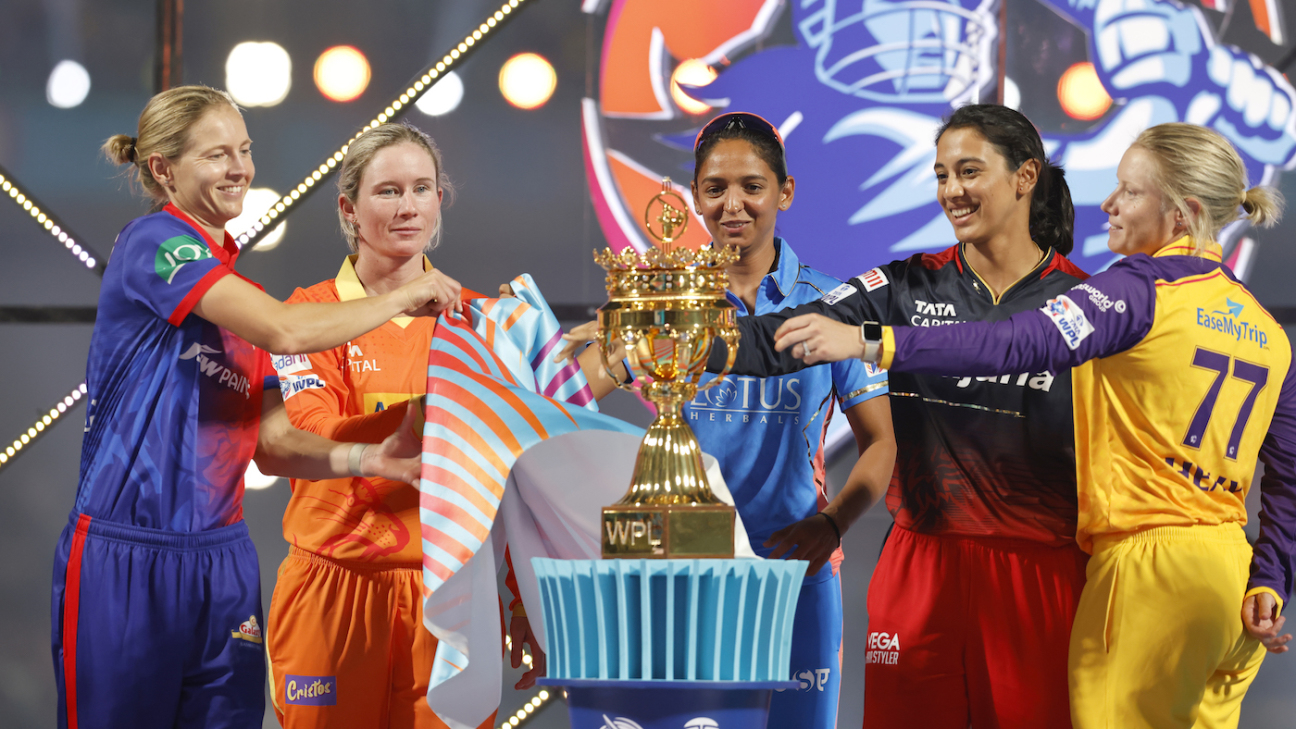 7.55pm Thanks Sreshth. The two teams line up as the Indian national anthem plays. Mumbai Indians in their blue and Gujarat Giants in orange jerseys.
Here's Abhimanyu Bose now for the first 10 overs. Play starting soon…
7.50pm Alright folks, with the broadcast playing inspirational music, can't help but feel goosebumps myself too. The buzz at the DY Patil Stadium is quite fabulous. All five teams are trying to finish 1st in the league stage. First qualifies to the final directly. Teams that finish second and third will play a qualifier where the winner moves to the final.
Breaking down the teams for today, with Sudarshanan chipping in.
Mumbai have a strong, allrounder-heavy XI, something that Harmanpreet enjoys, with as many as 10 decent bowling options, with seam-bowling options in Vastrakar, Nat Sciver-Brunt, Wong, Kalita and Amanjot.
Giants are Australia heavy – all four overseas are Aussies. They appear a tad thin on batting with Rana at No. 7. Joshi returning to big-flight cricket after a long time. Only three seam options in Sutherland, Patel and Joshi.
We have the playing XIs.
Mumbai Indians: Harmanpreet Kaur, Yastika Bhatia, Natalie Sciver-Brunt, Hayley Mathews, Pooja Vastrakar, Issy Wong, Humaira Kaazi, Amelia Kerr, Amanjot Kaur, Jintimani Kalita, Saika Ishaque.
Gujarat Giants: Beth Mooney, S Meghana, Harleen Deol, Ashleigh Gardner, Annabel Sutherland, Hemalatha D, Georgia Wareham, Sneh Rana, Tanuja Kanwer, Monica Patel, Mansi Joshi.
Akash: "Tell more about Dottin's withdrawal. Do GG allow for her replacement?" — Australia allrounder Kim Garth has replaced her.
Amelia Kerr, Mumbai: "Heard the tickets are sold out today, amazing. Its a bit ridiculous being here now, watching the men's premier league growing up. Its about soaking it up and make great moments. (Playing in India) It is awesome to be back. We know how passionate they are. Going to be pretty noisy. Excited to play in different conditions with a crowd that gets into it. Can't get better than playing for Mumbai too. (Auction) No one really knew what to expect. It was actually quite though, we were playing against South Africa. You feel happy but also sad for your teammates. But for women's cricket it is really cool."
While we wait for the XIs, let me tell you that the warm-ups are underway, the crowd is now itching for the action to begin – few of them have been here for more than two hours.
ChrisTaunton: "So just 20 matches plus the play-offs then? It'll feel short – over in no time compared to the IPL for men.Here's hoping that the women can put on a really great display worthy of a world-rated competition, so that it can grow and grow in years to come. Best wishes, girls!"
7.30pm AAAAND it is TOSS TIME. Ravi Shastri has brought his A-game and Beth Mooney of Gujarat Giants wins the toss, bowling first. "We'll have a bowl, good grass here. Chasing has been successful here. WPL will be exciting for the fans, looking forward to get stuck in. Last few days have been fun, very few entertaining personalities. Maybe I talk a little too quickly and they can't catch on. But pleasant experience. Few of us have experienced this before, so we can give advice to those who haven't before. First game, hope to give a good spectacle. Three seamers, four spinners, mix of experience and youth."
Harmanpreet Kaur of Mumbai Indians: "Special day, goosebumps will be there, but now time to play. This wicket is very good to bat on. Bowling department also has something on this pitch. Most importantly, we need to enjoy and express ourselves." She also says Jintimani Kalita (the only Assam player) is playing, Saika Ishaque another one she wants us to keep our eyes on.
7.20pm A star-studded opening ceremony concludes. Toss in 10 mins for Mumbai Indians v Gujarat Giants.
The WPL kicks off with the two heavyweights of India's corporate world going head to head. The Adani Group, who failed to buy one of the two new men's IPL teams in 2022, have jumped into the WPL with their Gujarat side. They are one of three sides to name Australian captains (Beth Mooney). Mooney is consistent, loves the big stage, and she has said the Giants – who also have Rachael Haynes, Raj and Noosheen Al Khadeer in their backroom – will play brave cricket. There has however been a hiccup in their preparations, with Deandra Dottin withdrawn from the tournament, due to a "medical issue" according to Giants. She later suggested via a tweet that her health was fine. Wonder what's up with that…
Mumbai Indians are one of the three franchises who also have men's teams. Mumbai Indians are of course the most successful team in the IPL with five trophies. They are led by Harmanpreet Kaur, the India skipper. Harmanpreet feels that the WPL can do for India what the WBBL has done for Australia and the Hundred for England, and help close the gap between the Indian national team and Australia. Mumbai have stocked up on allrounders with Amelia Kerr, Nat Sciver-Brunt, Heather Graham and Chloe Tryon in their squad, while Hayley Matthews gives them firepower up top. They also have some promising young fast bowlers in Pooja Vastrakar and England's Issy Wong, who will now represent a team she grew up watching.
7.07pm BCCI president Roger Binny and secretary Jay Shah now on the stage along with other senior BCCI officials. They welcome the five captains on the stage now — Meg Lanning, Beth Mooney, Harmanpreet Kaur, Smriti Mandhana and Alyssa Healy. And the five captains unveil the WPL trophy! The trophy is quite big, with a golden tinge and there's a batter at the top of the trophy with a set of stumps at the apex to round it off.
7.05pm AP Dhillon's performance comes to an end, with the crowd on its feet.
6.52pm Meanwhile, here's what Zenia D'cunha had to say from the ground a while before the opening ceremony started: "Lots of Mumbai Indians fans (and some vintage MI jerseys + jersey stalls) outside the DY Patil stadium in Navi Mumbai ahead of the Women's Premier League opener. The place is buzzing hours before, people we spoke to excited to see a 'historic occasion' & Harmanpreet Kaur!"
Zenia has also pondered whether the WPL will make women's cricket mainstream in India.
Shashank Kishore writes about how the WPL is a league long overdue, and already making dreams come true.
6.50pm And now, it's time for AP Dhillon to belt some of his biggest hits!
As we wait for the first game to start, you can read S Sudarshanan's piece on how the WPL is the start of something unusually usual for women's cricket in India.
6.43pm Kiara Advani's performance comes to an end. And now it's time to welcome Kriti Sanon, a "Chak De India" blasts on the speakers.
6.30pm And the opening ceremony is underway, with Mandira Bedi hosting. And Kiara Advani is the first star to perform at the ceremony. Some of the players, waiting in the dugout, are also shaking a leg.
6.25pm We have an opening ceremony lined up from 6.30pm IST. The toss is for 7.30pm local and the first ball is at 8pm tonight.
Harleen Deol, Gujarat Giants: "We always wanted this day to arrive, so we are very excited. As a young girl, always wanted to play a WPL. (Meaning for women's sport) Even overseas players are excited for it, shows how big a tournament this is. The preparation has been good, we've been gelling well. Everybody is sharing their experiences."
"I don't know what to express, in a little more time, tears will fall down my cheeks", says Jemimah Rodrigues' father at the DY Patil Stadium. That shows how much this means to the family members of so many Indian cricketers. In all, there are 57 Indians among the 87 players picked up at the auction. A whopping 407 players signed up by the way. Rodrigues, a Mumbai girl, is vice-captain at Delhi Capitals, who play tomorrow.
6.10pm Here's a quick look at the major developments leading up to this watershed moment.
It was on January 16 that Viacom won the media rights for the WPL, in a deal that runs till 2027, committing INR 951 crore overall.
Nine days later, the owners were decided.
It was in February that the players' auction finally happened and the teams were decided. (Here is how the five squads stack up.)
And it was Tata that bagged the title rights in a five-year deal.
Before we dive deeper, a reminder that you can join Shashank Kishore on our live blog and scroll through the WPL series page for our latest stories.
5.55pm When was the first time someone thought of a 'women's IPL'? Jump into ESPNcricinfo's archives, and it is in 2008, that the BCCI makes a passing mention. Go a little further to 2010, and a 24-year old Isa Guha of England, laments how an IPL for women could change the sport forever. Guha then completed an international career, retired, then become one of the better broadcasters in cricket today, and yet no IPL for women. For many years thereafter, Mithali Raj became the flagbearer for a women's IPL, revealing in 2016 that the No. 1 question she was asked was when the tournament would begin. She would echo the same till her 2022 retirement, even while the men's league became the world's biggest and other countries developed women's T20 competitions of their own.
Between 2017 and 2019, new icons in Indian women's cricket developed, and with the domestic set-up suggesting that the grassroots structure is finally strong enough to host a women's IPL, the pandemic hit. Women's cricket – to be frank – took a backseat in the BCCI's agenda and some legends – like Raj and Jhulan Goswami – retired perhaps tired of waiting.
But that doesn't mean Raj and Goswami (and so many others in the women's cricket ecosystem) don't have reason to celebrate. That day is finally here. Because of their undying efforts, we are here today, on March 4 2023, to witness a historic occasion. With the WPL being driven by the world's strongest cricketing economy, there's a quiet feeling that today is the start of something game changing. For many cricketers, today is the start of the rest of their lives.